Your Best Local Moving Service
Leading Moving Company in Cape Town
Cape Movers Furniture Removals
We want to make your move easy. 
We offer affordable service rates, clear quotes for government-assisted moving, and have no hidden costs! Are you a senior who needs a hand with moving heavy furniture? 
We've got you covered with Senior discounts along with exceptional, friendly service. 
We are a local moving company that will happily cater to your needs, be it residential or commercial.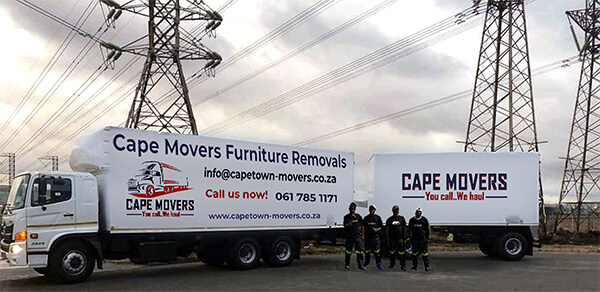 Our office relocation specialists have expertise in office removal and are able to create a smooth relocation experience.
Our team is experienced in residential moving and we will perform the job for you with such organization and efficiency that it will look easy. 
We provide boxes that are specially designed for moving so you can be assured that your personal belongings are fully protected and will be transported in the best condition.
We provide boxes that are specially designed for moving so you can be assured that your personal belongings are fully protected and will be transported in the best condition.

Preparing for moving
Collecting & packing

Ready for moving

Safe & secure delivery
With Cape Movers Furniture Removals, you will have a stress-free office relocation experience.
Cape Movers Furniture Removals is a leading moving company in Cape Town. We provide trusted and reliable furniture removals throughout the breath-taking city of Cape Town and in the Western Cape.
Whether it be from Rondebosch to Constantia, or Hout Bay to Muizenberg, our dedicated customer-centric approach guarantees you a fast, effortless and stress-free moving experience.
We provide superb value through our efficient logistics and considerate approach to the needs of our customers, and we believe that moving should be a time of opportunity and new beginnings without the stress of unnecessary setbacks or time-consuming travel.
We also understand that our customers entrust us with some of their most valuable items and beloved heritage pieces, which is why we guarantee a sensitive and secure approach to moving that you can trust.
The benefits of using a moving company in Cape Town and the Western Province
Cape Town is as large and complex as it is beautiful and dynamic, and moving your valuable furnishing from A to B can be a tricky process.
Using a dedicated moving company has numerous benefits that will ensure your move is conducted seamlessly, whether you are relocating to City Bowl are settling in the Southern Suburbs.
Unparalleled efficiency
Organisations which specialise in Cape Town furniture removals consist of specially trained teams that are perfectly prepared to handle any type of situation, while each team member is equipped to move even the bulkiest of furniture into challenging spaces safely and easily.
Therefore, using a removal company in Cape Town will help you to conclude your move on schedule and with no stress or hassle, so that you can focus on the aspects of your relocation that matter the most to you.
Ensure the process is conducted safely and securely
Furniture removal companies have extensive experience in handling all manner of relocation safely and securely.
These specialised teams provide a much safer handling of your goods than could be otherwise achieved, and use specialised packaging protocols to ensure that even your most delicate items are delivered without a scratch.
Ensure that your move is fast and on schedule
Furniture removal companies work closely with you to ensure that your moving schedule is adhered to without unnecessary delays.
 These companies provide you with a date and time at which you can expect your delivery, and are committed to ensuring that all of your goods arrive promptly so that you can settle into your new location as soon as possible.
The moving services we offer
Cape Movers Furniture Removals offers specialised and customer-centric removal services throughout the city of Cape Town. Our dedicated and flexible service offering includes household removals, office moving, wrapping and packaging, and packing and moving for long distance relocations and short distance local moves.
We provide comprehensive and dedicated furniture removals from start to finish, and work closely with all of our customers to ensure that your goods are delivered safely and on time.
We employ specialised techniques in the handling of each one of your valuable items, providing recycled packaging, weather-resistant protection measures and space-saving packing procedures to provide you with a complete and stress-free moving experience.
We have long-standing experience in the furniture removal business, with more than one thousand commercial and residential projects completed respectively, and over 800 happy customers to date.
As part of our commitment to ensuring that our customers receive the very best service during the sensitive moving period, we offer affordable service rates, transparent quotes and a flexible approach to ensure your moving experience is as easy and convenient as possible.
Our dedicated team ensures trusted and quality delivery systems that provide you with a safe and secure move, while our vast range of services is suited to any type of situation. And what's more, our affordable and professional service offering is provided on the basis of a price match promise.